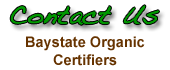 Executive Director
Don Franczyk (Main Office)
1220 Cedarwood Circle
N. Dighton, MA 02764
E-mail: baystateorganic
@earthlink.net
Phone: (774) 872-5544
Fax: (774) 872-5545
Certification Administrator
Duncan Cox
1 Webster Street
Salem, MA 01970
E-mail:
dcox
@baystateorganic.org
Phone: (978) 745-6207
Certification Administrator
Eric Hanson
E-mail:
ehanson
@baystateorganic.org
Phone: (401) 835-2210





FOR CONSUMERS
Grower & Processor Contact Information

YOUR Guide to finding certified organic produce, livestock and products in your area...

Baystate Organic Certifiers has provided below links to contact information (address, phone, e-mail, website, etc.) for Certified Organic Growers & Processors in the states of Connecticut, Massachusetts, New Hampshire, Maine, New Jersey, New York, Pennsylvania, Rhode Island & Vermont. This is done in an effort to facilitate YOU (the consumer) in your mission to get the most healthy food as possible while also supporting your "local heroes"...

These links will bring you to listings both by TOWN (alphabetical) and PRODUCTS of the growers & processors in the STATE you choose - the easiest way to find organic products near your locale... thanks in advance for your support!!