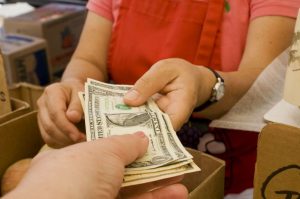 *Baystate will be updating this page as we receive the documents and links for the current year's cost share reimbursement*
Each state has federal money available to refund organic certification fees. For the purposes of this reimbursement, the certification year is defined as the period between October 1, 2017 and September 30, 2018.
Under this program, applicants may recover 75% of certification fees up to $750 total per scope of certification in any one year. Operations that are certified for more than one scope may apply for reimbursement for each scope but need a receipt for the payment of each scope. These operations need to report sales by scope to Baystate so that we can issue a receipt showing payment for each.
Fees have to be paid in full in order to get the reimbursement.
For a quick printable "how-to" on what the cost share is and the process: Cost Share Reimbursement.
To learn more about organic certification cost share, please visit www.fsa.usda.gov/organic or to find your local FSA office: http://offices.usda.gov (Please note: Maine operations cannot apply through FSA but must apply directly.)
Cost Share Forms (listed by state)
Complete the form required for your state and send to the address listed on the form. Contact your state's Department of Agriculture for applications for states not listed below. If you are having difficulty applying for the reimbursement, please contact Lauren Sandstrom at lsandstrom@baystateorganic.org or (917) 957-0979 for assistance.
Florida Cost Share Application: 2018 Cost Share Application
Idaho Cost Share Application (see your local FSA office)
Illinois Cost Share Application
Maryland Cost Share Application: Maryland Cost Share Application 2018
Massachusetts Cost Share Application: MA Terms of Conditions, W9 Form, and Electronic Funds Transfer Form; MA 2018 Cost Share Application
Michigan Cost Share Application (see your local FSA office)
New Hampshire Cost Share Application:
New Jersey Cost Share Application:
New York Cost Share Application: NY 2018 Notice; NY 2018 Application Form
North Carolina Cost Share Application (see your local FSA office)
Ohio Cost Share Application:
Pennsylvania Cost Share Application:
RI Cost Share Application: Cost Share Application 2018
Vermont Cost Share Application:
Virginia Cost Share Application:
West Virginia Cost Share Application (see your local FSA office)