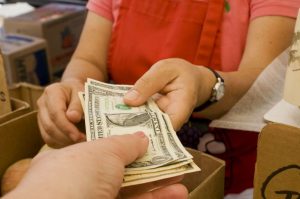 Under the cost share reimbursement program of the USDA, organic operations may recover a portion of their certification fees per scope of certification every fiscal year. For the purposes of this reimbursement, the certification year is defined as the period between October 1, 2018 and September 30, 2019. Operations that are certified for more than one scope may apply for reimbursement for each scope but need a receipt for the payment of each scope. These operations need to report sales by scope to Baystate so that we can issue a receipt showing payment for each. Fees must be paid in full in order to get the reimbursement.
Please note: USDA COST SHARE REIMBURSEMENT UPDATE
We were blindsided by this recent action by the FSA and only learned of it as of Monday August 10th.
USDA's Farm Service Agency announced they are reducing reimbursement rates for the Organic Certification Cost Share Program. Congress set the current reimbursement rates in the 2018 Farm Bill at 75% of the certified organic operation's eligible expenses, up to a maximum of $750 per scope. FSA plans to lower the rate to 50% of eligible expenses, up to a maximum of $500 per scope. This reduction comes in the middle of a global crisis, at a time when it is critical to support our organic farms as essential to our recovery.
Take action to save the Organic Certification Cost Share Program! Tell your Representatives and Senators:
The Cost Share Program is an important tool to help organic farmers stay in business. Organic businesses need this support now more than ever because of the lost markets and increased costs to keep workers and customers safe during the pandemic.
Congress established reimbursement rates in the 2018 Farm Bill. It is unacceptable for FSA to disregard Congressional funding directives.
It is vital that FSA reinstate the full organic certification cost share reimbursement.
We at Baystate urge our certified operations to apply for their cost share reimbursement program with their state agency or local FSA office as soon as they are able to do so. Contact your state's Department of Agriculture to request the applications for your state. Operations have until October 31, 2020 to apply for funding.
*Baystate updates this page when we receive updated information regarding the cost share reimbursement as set in the 2018 Farm Bill. Any inquiries, please contact Lauren Sandstrom at lsandstrom@baystateorganic.org or (917) 957-0979.*